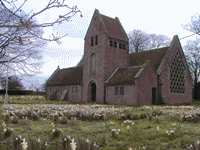 The Church of St. Edward the Confessor, Kempley, 1904 - architecturally interesting; designed and constructed by local craftspeople. The church of St. Edward was planned by the major landowner, the 7th earl of Beauchamp, because the old parish church of St. Mary was too far away from the main centres of population at Kempley Green and Fishpool; also, the site of St. Mary's was liable to flooding. In 1902 the foundations were laid by the Earl.
In 1903 Randall Wells, then clerk of works at Brockhampton, was called in and the church was built by direct labour under his supervision. R. James a local builder was the foreman. The walls of the church and the lychgate are in Forest of Dean red sandstone. Originally the church and the lychgate were both roofed in local stone tiles but the church was reroofed with pantiles in the 1950's.
The church has three sculpted stone reliefs designed by Randall Wells. On the external East wall, is a 'wayside shrine' of the Crucifixion carved by Walter James, a local carpenter. Above the church entrance is a carving of Christ delivering the Sermon on the Mount, also by Wells and Walter James. Within the porch is a carving of the Virgin and Child by Laurence Turner, a renowned stonemason of his day.
Both inside and outside the church are many examples of Arts & Crafts Symbolism from the wonderful 'Jam Tart' Window in the West Wall to the font, the rood beam statues, the pews and other artefacts. There is no east window and the baldachin and tester were donated by the Beauchamp family.
The church is usually open from about 9am to 4pm every day - although there may be occasions when this is not so, e.g. if the keyholder has a timing problem, or if the weather is particularly bad during the winter.
The parish of Kempley is part of the united Benefice of Leadon Vale comprising the villages of Bromesberrow, Donnington, Dymock, Kempley, Oxenhall, Pauntley, Preston, Redmarley and Upleadon. The Rector, the Revd Andy Sewell, is based in Redmarley.
Services at St. Edward's are generally as follows:
First Sunday of the month - Holy communion at 10.00am
Second Sunday - Service of Evening Praise (non-Eucharistic) at 4pm
Third Sunday - Benefice Communion Service at 10 am (location varies month)
Fourth Sunday - Holy Communion at 9.30am